Osun community lauds govt's efforts on health , donates N10m medical equipment

By

wodipaul

• 2 weeks ago •

4627 views •

436 comments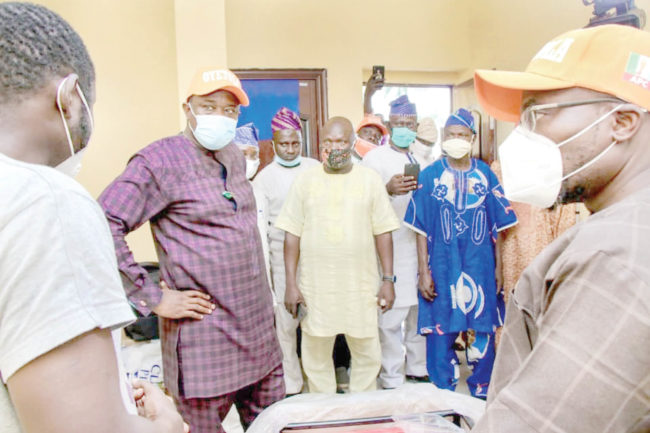 Over the years, stakeholders in various sectors of the economy have advocated that people and organisations partner with government in order to hasten the rate of development based on the belief that government should not be left alone to carry the heavy burden.
Some also hold the belief that once government has a laudable project, supporting such will help not only the government but the people as a whole. This is the basis for the recent donation by a community to the health revitalisation project of the Governor Gboyega Oyetola government in Osun State.
The Masifa Health Matter Committee donated medical equipment worth over 10million on behalf of Masifa Community in Ejigbo Local government Area of Osun State to the Osun State Government for use in the Masifa Primary Healthcare Centre newly built by the Governor Oyetola administration.
The medical equipment which will enable screening, prevention, diagnosis, treatment and palliative care were received by the state Commissioner for Health, Dr Rafiu Isamotu, at the newly built Masifa Primary Healthcare Centre on behalf of government.
The chairman, Masifa Health Matter Committee, Mr Teju Olakiigbe, in his welcoming address at the presentation ceremony eulogized  Oyetola's administration for its effort in revamping the Osun health sector with the revitalisation of  332 primary healthcare centres, adding that Masifa community will forever be grateful to the government for providing a standard and befitting primary health centre for the community.
He explained that to appreciate the efforts of the Osun State government, the community was donating the medical equipment which they sourced through a non-governmental organization.
The medical equipment includes one crank hospital bed with mattress and Mackintosh, patient trolley, accoson sphygmomanometer, litmann stethoscopes, pulse oximeters, nebulizer, accucheck glucometer, glucometer strip, weighing scale and height meter for adults, digital baby weighing scale, examination couches, and hydraulic delivery bed (foot pedal type).
There were also pharmaceutical products; laboratory and surgical consumables, Hematocrit Reader Metal, Hawksley Hematocrit Centrifuge Model, 18L Pressure Steam Autoclave with Tap, television sets, generating set, stadiomater and refrigerators, among others.
Receiving the medical equipment on behalf of the state government, Dr. Isamotu appreciated the kind gesture of the community in deeming it fit to support the government to provide a well furnished and comfortable health facility for the good people of Masifa Ile community and thanked the people of the community for believing and supporting the government of Governor Oyetola in achieving a milestone in the health sector. He also used the opportunity to call on other beneficiary communities to emulate the Masifa community and join hands with the state government.
Related Post viewed by other
436 Replies | Last update 2 weeks ago |
Last comment okimjuwom
This is great! Hope to see this replicated in other communities accros the nation.

Thanks for the information 

I can't say this or that categorically. But all i have to say is God thank you.

Thanks for letting me know about the update

This news is very beneficial to the whole public at large,as it will aid in our societal well being. Thanks for the update.

As for me laravel, I would say that its terrific.

Impressive well I wish every government will be progressive like this